A BREATHTAKING EVENT SHOWCASING THE WORLD'S BEST MARTIAL ARTS AND COMBAT SPORTS.
The World Combat Games will be the beating heart for combat sports and will be the perfect bridge between elite sport and local communities.
The World Combat Games concept aims for a compact and manageable event which offers cities an opportunity for focused international promotion, to engage with their youth communities and to promote public health and wellness agendas through inspiring initiatives encouraging participation in combat sports.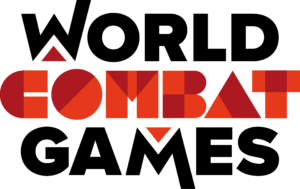 WHY HOST THE WORLD COMBAT GAMES?
Bring elite sport to life in your city
Host the world's best athletes
Establish perfect bridge between elite sport and local communities
Bring the values of respect, self-control and determination to life
Drive global exposure
Demonstrate event management capability
A chance to welcome the leaders of sport
LIST OF SPORTS AT THE WORLD COMBAT GAMES
Aikido
Armwrestling
Boxing
Fencing
Judo
Ju-jitsu
Karate
Kendo
Kickboxing
Muaythai
Sambo
Savate
Sumo
Taekwondo
Wrestling
Wushu
CULTURE
A festival atmosphere makes the Games accessible to fans and families alike, with chances for all to engage with the event. Events and activations accompany the competitions, to bring the values of combat sports and martial arts to life:
A festival for fans
Ambassador programme
Sports Demonstrations/ Entertainment
Youth masterclass
Cultural exhibitions and conferences
LEGACY
Encouraging youth participation in sports
Fostering greater unity in local martial arts and combat sports communities
Strengthening experience of local elite athletes and increasing medal potential at top international events
Worldwide media exposure for the country and the city
Local economy: spending by the organisers, participants and spectators
Gain experience in organising top international multi-sports events
Increased recognition when bidding for future international sports events