Strengthening the international sporting community through building connections lies at the very heart of SportAccord's raison d'être. Since our very first event in 2003, SportAccord has brought together sport's leading decision-makers to form a community that engages in constructive dialogue in the spirit of unity and friendship, all for the good of sport and our society.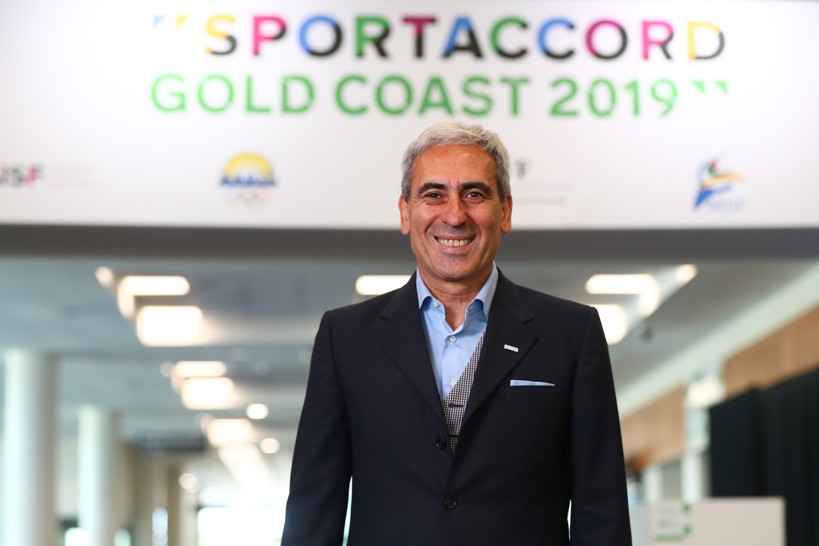 Personal profile
Raffaele Chiulli is Doctor of Sciences with honours from the University of Rome and had post graduate education at Duke University (U.S.A.), INSEAD (France) and IMD (Switzerland). He speaks English, French and Spanish; Italian is his mother tongue.
Professional profile summary
Established leader with a strong record of delivery in enterprise and sports administration, achieving strategic planning, business development and economic results. Demonstrated experience in commercial, contractual and financial areas, while building teams and developing broad coalitions of support around projects with tangible social benefits. Proven ability in building relations, attracting investment and gaining support at the highest level with government authorities, sports institutions and multinational companies. Deep understanding and proven ability in multinational and multicultural environments. Highly value principled business ethics, entrepreneurship, motivation, perseverance and loyalty.
Working summary and professional experiences
Raffaele Chiulli, among other responsibilities, is currently Chairman of SAFE, Centre of Excellence for Energy and Environment. Current and previous assignments include Chief Executive positions in the energy industry as well as board membership in multinational energy companies; Professor and lecturer at Master and postgraduate programmes at several Universities on energy resources management and sport administration; Chairman of international panels and author of more than fifty publications.
International sport experience and positions
President of GAISF (Global Association of International Sport Federations), since 2019. GAISF is the worldwide governing organization for the 96 Olympic and non-Olympic International Sports Federations and organizer of major international sporting events.
President of SportAccord, since 2019. SportAccord organizes the world sport and business summit, the Regional SportAccord, the International Sport Federations Forum, combining exhibition themed conference programmes with a multitude of networking events.
President of ARISF (Association of IOC Recognised International Sport Federations), since 2013. ARISF is the world authority regrouping all 42 International Olympic Committee Recognised International Sport Federations.
President of UIM (Union Internationale Motonautique), since 2007. The UIM is the International Powerboating Federation, the World Governing Body for all powerboating activities, fully recognized by the International Olympic Committee.
Member of the International Olympic Committee Sport and Active Society Commission, since 2014. The Commission plays an important role with regard to the implementation of the Olympic Agenda 2020.
Honours & Awards
Knight of Merit of Italian Republic, by the President of the Republic
Vermillion Medal for Education and Sport, by HSH Prince Albert of Monaco
Gold Star of Sport Merit, by the President Italian Olympic Committee
Diploma for Development and Promotion of Sport, by the President of International Olympic Committee
Julius Caesar Award, by the City of Rome
Honorary Doctorate in Sport/Physical Education, by the President of Yong In University – South Korea
José Yánez Ordaz Award in Science, Technology, Innovation & Environment by the Minister of Sport – Cuba
Honorary Doctorate in Engineering and Chemistry of Materials and Structures, by the Rector and the Academic Senate of the University of Messina