A special celebration took place in Uzbekistan when the GAISF Vice President and AIMS President Stephan Fox was invited to honour Uzbekistan's first Olympic Gold Medal win ner in Taekwondo, Ulugbek Rashitov made history in Tokyo at the age of 19 with an outstanding performance in the final taking the gold medal.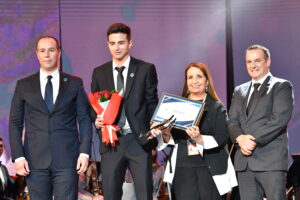 Stephan Fox, who is also the chairman of the GAISF Multisport Games Division, visited the Taekwondo Headquarters in Uzbekistan with the Vice President of the National Olympic Committee of Uzbekistan and President of Taekwondo, Sherzod Toshmatov.
Mr. Fox congratulated above all the effort for his Olympic dream medal and also the President for his work in the development of Taekwondo in Uzbekistan. Mr. Fox stated further that World Taekwondo under the leadership of President Chou is one of the leading martial arts in the world, an important member of GAISF, and the World Combat Games and that everyone is looking forward to the next event, the Korea Open – end of June.