The next edition of the highly anticipated World Combat Games is set to take place from 20-30 October in Riyadh, Saudi Arabia, with over 1,500 athletes competing in 16 martial arts and combat sports.
To help get you in the mood for what promises to be an action-packed end to October, we'll take a closer look at each of the sports taking part in the World Combat Games in three parts.
First up at Riyadh 2023 will be Karate, Boxing and Sambo, with athletes competing over two days starting on 20 October. Sumo and Wushu athletes will join the fray on Day 2. All events will be held at the King Saud University Arena and Sports Hall in the heart of the Saudi capital.
KARATE – 20-21 OCTOBER – KSU 1
Karate comes into Riyadh 2023 hot off its hugely successful Olympic Games debut at Tokyo 2020, with Kumite and Kata athletes both set to compete for World Combat Games medals.
In Kumite, karatekas score points using kicks, punches, strikes, throws, and sweeps. Kata competitors, meanwhile, are judged on the power and correctness of their techniques.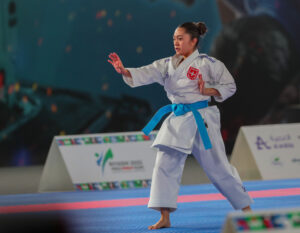 "Karate will have, once again, the opportunity to demonstrate its tremendous added value in multi-sport events at the upcoming edition of the World Combat Games," says World Karate Federation (WKF) President Antonio Espinós. "We have been a permanent fixture in the sports programme of the event since its inception in 2010, and as we move to a new and anticipated edition to be held in Riyadh, we are convinced that Karate will be one of the highlights of the event. Fans of combat sports can get ready for two thrilling days of Karate competition in Riyadh where our sport will showcase its sporting spirit, its excitement, its honour and tradition."
BOXING – 20-21 OCTOBER – KSU 2
Boxing is a form of hand-to-hand combat where one athlete attempts to score points by landing punches to their opponent's upper body. Matches are determined by judges' decision or by knockout.
The boxing competition at Riyadh 2023 will be a regional contest featuring some 30 athletes (an even number of men and women) from Bahrain, Kuwait, Qatar, Saudi Arabia, and the United Arab Emirates.
Boxers will compete in the following weight categories: Men's 51kg; Men's 63.5kg; Men's 71kg; Men's 80kg; Men's +92kg; Women's 50kg; Women's 54kg; and Women's 60kg.
SAMBO + PARA SAMBO – 20-21 OCTOBER – KSU 5
SAMBO is a martial art and combat sport developed and used by the Soviet Red Army in the early 1920s to improve their hand-to-hand combat abilities. It has grown to become a well-known combat sport around the world. It's a grappling discipline that also incorporates different types of wrestling and various self-defence tactics.
At Riyadh 2023, sambists will not only compete in men's and women's events but also in Mixed Team competitions, which are sure to be a hit with spectators. SAMBO is also one of six sports at Riyadh 2023 that will feature para athletes.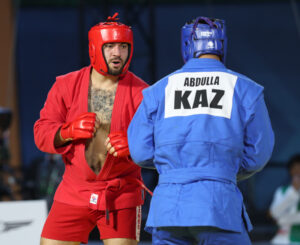 "It is a great honour for our sport to once again take part in such a large-scale and significant event as the World Combat Games," says Vasily Shestakov, President of the International Sambo Federation (FIAS). "SAMBO is a dynamically developing sport that has a huge number of fans in all corners of the globe. I am confident that the upcoming Games in Riyadh will be an important step forward for the development and popularization of SAMBO around the world."
SUMO – 20-21 OCTOBER – KSU 3
Sumo is a highly engaging contact sport that takes place between two competitors in a 4.55-meter diameter dohyo. The athletes pit their full strength against each other, striving to push their adversary out of the dohyo or make them touch the ground with any part of their body apart from the soles of their feet.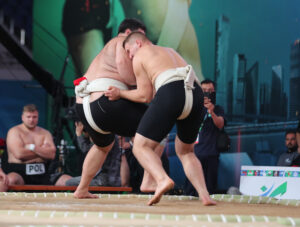 True to the spirit of sumo, athletes respect their rivals, leaving the dohyo with dignity, irrespective of victory.
At Riyadh 2023, some 80 male and female sumotori representing all five continents will compete in lightweight, middleweight, and heavyweight categories.
"It is my great pleasure to congratulate the World Combat Games on being held in the Kingdom of Saudi Arabia, a country with a rich history and tradition," says International Sumo Federation (IFS) President Kazufumi Minami. "Sumo is a traditional Japanese form of Bushido, and its history can be traced back 1,500 years. Today, it is an officially recognized sport by the IOC and is practiced in 88 countries around the world as a member of the International Sumo Federation.
"Competitors with well-trained bodies perform powerful Sumo under strict rules on a 4ⅿ55cm Dohyo. The victory of the smallest over the largest is one of the most exciting parts of the match. And the athletes must always be thoughtful of their opponents: It is not only important to win, but it is also important to have the spirit of winning and being humble.
"It is a symbol of peace that people from all over the world, regardless of nationality or ethnicity, can compete on the Dohyo. It would be great if the people of Saudi Arabia would be interested in this wonderful and fascinating sport on this opportunity."
WUSHU – 20-21 OCTOBER – KSU 4
Wushu, also referred to as Kung Fu, is the collective term for the martial arts practices that originated in China. Wushu as a sport came into its own as two distinct disciplines: taolu, defined by performance routines, and sanda, a full-contact combat sport. Both disciplines will be on display at Riyadh 2023, much to the delight of fans young and old alike.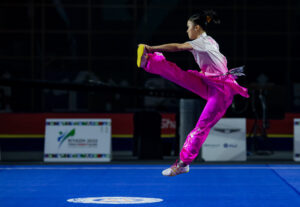 "I am delighted that Wushu is joining the SportAccord community at the 2023 World Combat Games in Riyadh, where we are eager to contribute to the world's best showing in martial arts and combat sports. Soon Wushu will debut as an official sport at the Dakar 2026 Youth Olympic Games, and this elite event in Riyadh is a wonderful opportunity to bring Wushu to a greater audience — both locally and to a wider sports-loving audience worldwide," says International Wushu Federation (IWUF) President Gou Zhongwen.
"We are especially excited to show the beauty of wushu to a greater audience in the host country of Saudi Arabia, where wushu is also fast gaining popularity. In fact, Saudi Arabia became a member of the International Wushu Federation just last year in 2022 and we are thrilled to welcome their energy, skills, and enthusiasm to our global wushu sport community. The martial arts and combat sports families share many bonds, traditions, and values. Wushu has always exemplified harmony, friendship, respect, perseverance, courage, and wushu undeniably shares these values with the ethos of the World Combat Games. We are also inspired to also highlight and promote the essential values of health and wellness intrinsic to wushu and all combat sports here in Riyadh."
In Part II, we'll take a closer look at Judo, Wrestling, Ju-Jitsu, Aikido, Kickboxing, and Fencing. Part III will cover Armwrestling, Taekwondo, Savate, Muaythai, and Kendo.
For information on where to buy tickets, click here. For information on where you can watch the World Combat Games, click here.