When Day 4 of the World Combat Games rolls around on 23 October, another two sports will take the stage at Riyadh 2023: Olympic stalwarts Judo and Wrestling. Hot on their heels as the event reaches its halfway point will be Ju-Jitsu, Aikido, Kickboxing and Fencing.
Read on to find out more about these sports and their involvement in Riyadh 2023. All the action from the 16 competing martial arts and combat sports will take place at the King Saud University Arena and Sports Hall from 20-30 October.
JUDO – 23 OCTOBER – KSU 1
Judo is a massively popular martial art that originated in Japan in 1882. Judoka use throws and grappling techniques to subdue their opponents, with points awarded for holds, throws and submissions. The goal of Judo is to throw one's opponent to the ground with force before attempting to immobilize them.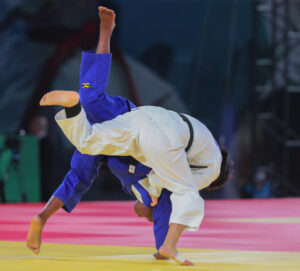 Judo at Riyadh 2023 promises to be extra special, as the competition will be between mixed-gender teams. Athletes will travel to Saudi Arabia for the competition from across the globe, including Europe, Middle East, the Americas, Asia, and Africa.
WRESTLING – 23-26 OCTOBER – KSU 5
Wrestling is one of the oldest forms of combat, and of course formed an integral part of the Olympic Games of antiquity.
Most people are familiar with Freestyle and Greco-Roman Wrestling, with both featuring prominently at the modern Olympic Games. But how about Grappling, Pankration and Belt Wrestling? The World Combat Games also wanted to give athletes from these disciplines a platform on which to showcase their exceptional talents to the world.
At Riyadh 2023, upwards of 300 of the world's elite practitioners of Grappling, Pankration and Belt Wrestling (in addition to Greco-Roman) will vie for coveted World Combat Games medals.
"United World Wrestling is pleased to see the World Combat Games organized in Riyadh, Saudi Arabia, a country that embraces combat sports and will be excellent organizers for an event that had not been organized in 10 years," says Nenad Lalovic, President of United World Wrestling. "To have Grappling, Pankration, Belt Wrestling in two styles, and Greco-Roman shows this is a significant competition for our federation and sport."
Grappling (M): 66kg, 84kg, 92kg
Grappling (W): 58kg, 90kg
Grappling Gi (M): 71kg, 100kg
Grappling Gi (W): 53kg, 64kg, 71kg
Greco-Roman: 60kg, 67kg, 77kg, 87kg, 97kg, 130kg
Pankration (M): 66kg, 71kg, 84kg, 92kg, 100kg
Pankration (W): 53kg, 57kg, 65kg, 70kg, 80kg
Belt Alysh Style (M): 70kg, 80kg, 90kg
Belt Alysh Style (W): 55kg, 65kg
Belt Qazak Style (M): 65kg, 75kg, 85kg
Belt Qazak Style (W): 60kg, 70kg
JU-JITSU + PARA JU-JITSU – 24-26 OCTOBER – KSU 1
Ju-Jitsu is popular martial art and a method of close combat and self-defence whose origins can be traced back to ancient Japan. Its practitioners, called jutsukas, use their opponent's force against them rather than attempting to meet force with force. By manipulating an opponent's attacking momentum and direction, a jutsuka can control the balance of their opponent and thereby resist counterattacks.
Ju-Jitsu requires technique, timing, agility, strength, and endurance, as well as the Budo spirit!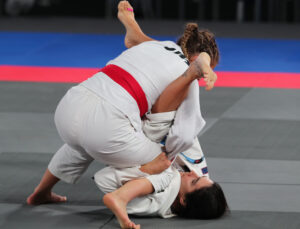 At Riyadh 2023, 124 athletes from all five continents will compete in four Ju-Jitsu disciplines: Ju-jitsu, Fighting, Duo, and Show. In addition, Para Ju-Jitsu and team competitions will be held.
"I would like to express our gratitude to the Kingdom of Saudi Arabia, His Royal Highness Prince Abdulaziz bin Turki Al Faisal Al Saud, and His Royal Highness the Crown Prince Mohammed bin Salman Al Saud, for their commitment to hosting the World Combat Games 2023," says Ju Jitsu International Federation (JJIF) President Panagiotis Theodoropoulos. "Al Riyadh has world-class facilities and is operationally ready to host the biggest World Combat Games. The Ju-Jitsu athletes and the spectators can look forward to exciting World Combat Games 2023. There is no better host for this major multi-sport games, bringing together the best athletes and all respective International Federations in a festival celebratory atmosphere."
AIKIDO + PARA AIKIDO – 24-25 OCTOBER – KSU 3
Aikido is a modern Japanese martial art with deep roots in traditional Japanese fighting arts, either empty-handed or with weapons. It evolved into a non-violent, non-competitive martial art with the objective of self-improvement.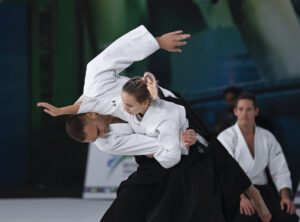 The sport does not have gender or weight classifications. Almost 100 Aikido and Para Aikido athletes from around the world will be in Riyadh for the Games.
"We are very proud and thankful that Aikido will take part in this edition of the World Combat Games in the Kingdom of Saudi Arabia, which will highlight the values and merits of Aikido and the other Martial Arts in general and in the Arabic region," says International Aikido Federation (IAF) Chairman Wilko Vriesman.
KICKBOXING – 25-27 OCTOBER – KSU 2
Kickboxing is a combat sport that features explosive kicking and punching techniques. The World Association of Kickboxing Organizations (WAKO) oversees seven disciplines across two main categories:
Ring – full contact, low kick and K1 style
Tatami – point fighting, kick light, light contact, and musical forms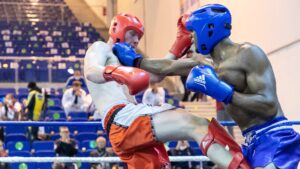 Kickboxing promotes life-long learning and participation while encouraging healthy lifestyles through physical activity in a safe and controlled environment, either recreationally or competitively. The sport, which is popular among both men and women the world over, promotes values such as respect, inclusion, diversity, and self-defence.
"The World Combat Games presents a remarkable opportunity for our athletes and federation to showcase the brilliance and immense potential of kickboxing," says WAKO President Roy Baker. "Undoubtedly, it stands as one of the most significant events within our four-year calendar cycle. As a convergence of globally recognized combat sports, this event is truly unparalleled and unmatched anywhere else in the world. We are thrilled and honoured to be an integral part of the upcoming World Combat Games 2023 in Riyadh. It's an exciting prospect that fills us with great enthusiasm for the future of our sport and the chance to leave a lasting impact on the international stage."
FENCING – 25-27 OCTOBER – KSU 4
Fencing is a combat sport in which two athletes use swords with flattened tips to attack and defend against one another with the aim of striking their opponent in order to score points.
The three disciplines of modern fencing are the foil, the épée, and the sabre. Each discipline uses a different kind of blade and has unique rules.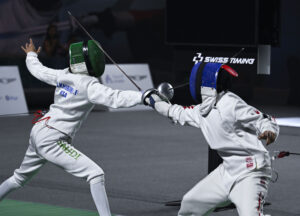 At Riyadh 2023, over 100 male and female athletes will compete in the following disciplines: Épée Individual, Épée Team, Foil Individual, Foil Team, Sabre Individual, and Sabre Team.
"The International Fencing Federation is pleased that fencing is one of the 16 featured events taking place at the 2023 World Combat Games in Riyadh," says FIE Interim President Emmanuel Katsiadakis. "As one of the oldest and first Olympic sports, fencing is a truly global and historic 'combat' event that reaches athletes of all ages around the world. We wish our competing fencers great success in its Games this month, and that all the participants in every sport enjoy a memorable and excellent experience."
In Part III, we'll take a closer look at Armwrestling, Taekwondo, Savate, Muaythai, and Kendo. Click here for Part I on Karate, Boxing, Sambo, Sumo, and Wushu.
For information on where to buy tickets, click here.
For information on where you can watch the World Combat Games, click here.